Since 1999, the Skoll Foundation has been a powerful ally of social entrepreneurs and innovators, investing in them, connecting them to resources and championing their results through the Foundation's annual awards for social entrepreneurship. The primary focus of Skoll Foundation work is in five areas: pandemics and health systems strengthening, effective governance, inclusive economies, racial justice, and climate action. Over the past two decades, the organization has invested over a billion dollars in over 200 projects.
The annual Skoll Awards for Social Entrepreneurship highlight innovative organizations whose work has already had significant impact on some of the world's most pressing problems and who can therefore become "critical catalysts of transformational social change". The Award includes $1.5 million in unrestricted funding over three years, as well as an additional $750,000 of support. Awardees can use the additional funds to make subgrants to their network of partners, as well as to extend their capacity in key areas through contract support. Since 2005, over 90 projects have been honored with a Skoll Award.
Priority Architectural Graphics has been partnering with the Skoll Foundation for almost a decade, helping the Foundation with the award signage supporting the Skoll Awards. These intricately designed awards are initially displayed in the Palo Alto headquarters of the Foundation before their distribution to awardees.
Fabricated from acrylic, rough cut and sawn elm wood with a center disc made from a recycled polymer resin, the centerpiece includes a distinctive custom glass "marble" in blue/green or black with gold leaf flakes. The marble also rotates within its housing. The design firm's specifications include that this marble tilt on an axis at exactly the same degree as the earth's axis.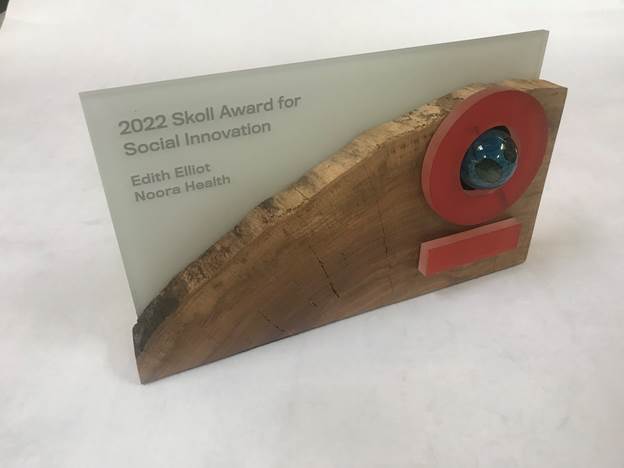 Over the past 9-10 years, Priority has fabricated and delivered over 50 Skoll Foundation Awards for recipients of this prestigious honor. We hope to continue this partnership for many years to come.